Costa Rica has emerged as a leading promoter of wellness in recent years, with a growing number of wellness retreats across the country. These Costa Rica wellness retreats offer a unique opportunity for individuals to disconnect from the hustle and bustle of daily life and focus on their physical, mental, and spiritual well-being. In addition to its natural beauty, Costa Rica is known for its commitment to sustainable living and organic farming, with many wellness retreats sourcing their ingredients locally. With its tranquil surroundings, sustainability commitment, and wellness focus, Costa Rica is the perfect destination for those seeking a rejuvenating retreat.
One such retreat is located in the heart of the Costa Rican rainforest, surrounded by lush greenery and abundant wildlife. Guests can enjoy various activities, from yoga and meditation to hiking and game-fishing tours. Villa Firenze is a luxurious villa rental in Costa Rica with an idyllic setting for rest, relaxation, and rejuvenation. Here, guests can escape from the hustle and bustle of everyday life and indulge in wellness experiences designed to nourish the body, mind, and soul. From yoga and meditation to relaxing massages and freshly prepared gourmet cuisines, a wellness day at Villa Firenze is a truly immersive experience that leaves guests feeling refreshed and renewed.
In this blog post, we'll take a closer look at what a typical wellness day at Villa Firenze looks like, so you can get a taste of the blissful indulgence that awaits you when you book Villa Firenze as an accommodation in Costa Rica.
The Benefits of Incorporating Wellness Practices into Your Vacation
People often go on vacations to break away from their everyday routine and relieve themselves from the pressures of daily life. However, many of us make the mistake of filling our vacation time with non-stop activities, overindulging in food and drink, and neglecting our physical and mental health and well-being, which can leave us exhausted, bloated, and even more stressed out than before. That's where wellness comes in.
Wellness is about taking a holistic approach to health and happiness, focusing on physical fitness and mental and emotional well-being. Incorporating wellness practices into your vacation can help you return home feeling more relaxed, rejuvenated, and energized than ever before.
There are many benefits to prioritizing wellness during your vacation. For starters, taking care of your physical health can help you avoid illness and injury while you're away, allowing you to make the most of your vacation time. It can also help you feel more confident and comfortable in your own skin, enhancing your experience and making your vacation more memorable.
Emotional and mental wellness are equally important. When we're stressed out, anxious, or depressed, it can be difficult to immerse ourselves in the vacation experience fully. Incorporating mindfulness practices such as meditation or yoga can help us stay active and focused, allowing us to savor each moment of the trip to the fullest.
Finally, wellness practices such as healthy eating, yoga, and massages can help us establish healthy habits that we can carry with us long after the vacation.
What Does a Wellness Day at Villa Firenze Look Like?
Villa Firenze is the perfect accommodation option if you're looking for a luxurious and relaxing getaway in Costa Rica. Imagine waking up to the sounds of the rainforest and starting your day with a yoga session in the stunning outdoors of the villa. Afterward, indulge in a healthy breakfast prepared by experienced and skilled chefs. Later on, unwind with a rejuvenating massage session, surrounded by the lush greenery of the rainforest. You can also take a dip in the villa's private pool or enjoy a nature walk on the property. Whatever your wellness needs may be, Villa Firenze has got you covered.
The eco-luxury experiences at Villa Firenze blend well with the wellness practices and create a relaxing getaway atmosphere. Let's see what a wellness day at Villa Firenze looks like!
Let's see what a wellness day at Villa Firenze looks like!
Escape to Nature and Relax with a Rejuvenating Massage at Serene Surroundings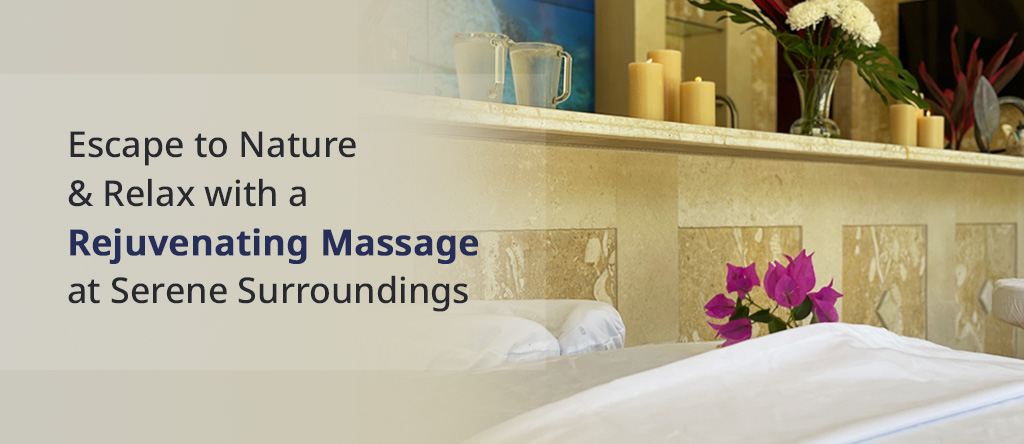 Villa Firenze is a luxurious retreat that boasts stunning views of the natural beauty that surrounds it. Nestled amidst serene surroundings, our guests can immerse themselves in the breathtaking landscapes of Costa Rica. The lush gardens that envelop our villa offer a picturesque backdrop for those who wish to take a leisurely stroll or explore the local flora and fauna of Costa Rica. Our skilled masseurs provide customized massage sessions in such idyllic settings that cater to your specific needs. These sessions promote physical and mental wellness, relieve muscle tension and enhance relaxation. The gentle breeze and the melodious chirping of birds in the background provide a tranquil and serene ambiance that enhances the massage experience at Villa Firenze.
Your Massage, Your Way: Poolside, In-Room, or In the Club House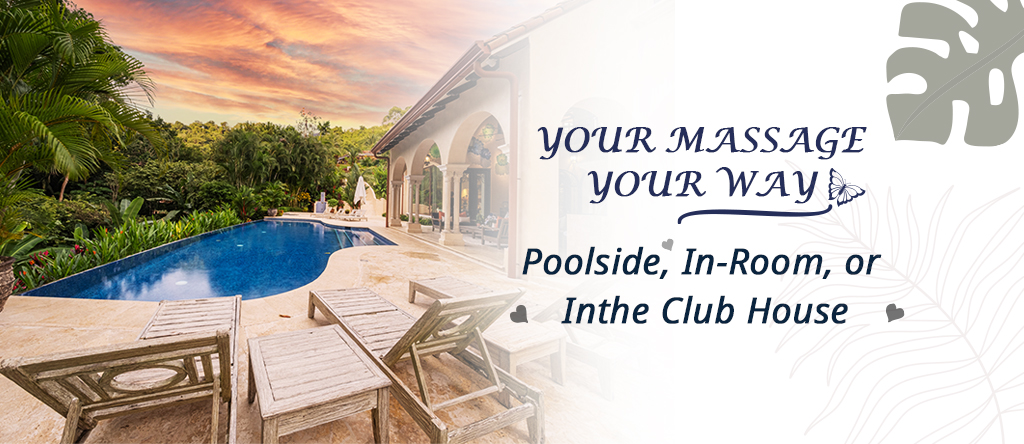 At Villa Firenze, we understand the importance of natural surroundings for a truly relaxing massage session. That's why we offer you the option to choose your preferred location for your massage session – whether by the pool, in your room, or in the clubhouse. Our team will work with you to create a soothing, rejuvenating, and relaxing atmosphere that allows you to recharge and unwind.
Each location is designed to help you make the most of our stunning natural surroundings. Enjoy the sound of the nearby rainforest and the gentle breeze as you receive your massage by the pool. Alternatively, choose to have your massage in our room or the clubhouse, with complete privacy and utmost comfort.
The suites and clubhouse are among the top 10 amenities to enjoy at Villa Firenze. No matter where you choose to have your massage, our team will ensure that the setting is perfect for you. We'll provide ambient lighting, soothing music, and a comfortable massage table to ensure you feel comfortable throughout your session. Our skilled masseurs will work with you to customize your massage experience, ensuring that you receive the most beneficial treatment for your body, mind, and soul.
Meet Our Masseur with the Magical Touch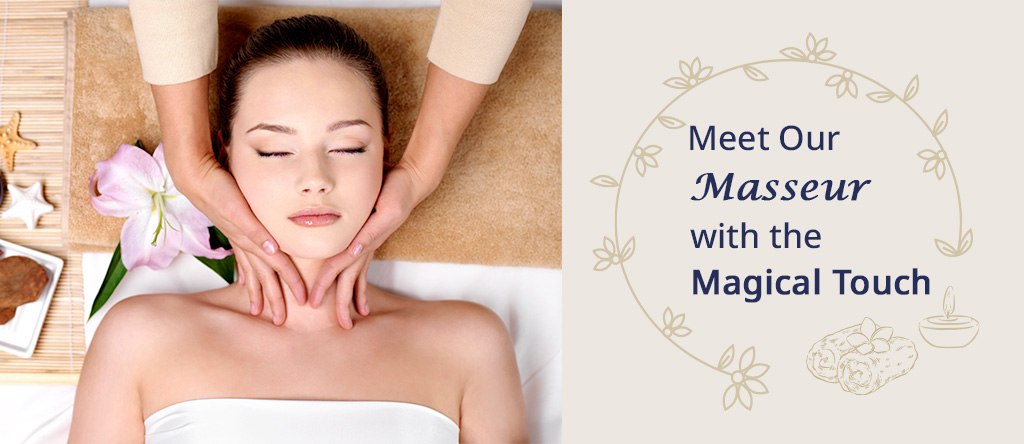 At Villa Firenze, we believe a massage experience should be unforgettable. We know the significance of providing our guests with a calming massage session. Hence, we have appointed only skilled and professional masseurs who are experienced in their craft and only work with the best masseurs with a wealth of experience in providing different types of massages that are good for a tired body and tensed nerves. Our team of masseurs will help you achieve a state of pure bliss and relaxation, leaving you feeling rejuvenated and refreshed.
Our highly skilled masseurs understand the human body perfectly, ensuring they can provide a massage experience tailored to your specific needs and preferences. They will take the time to understand your concerns and focus on areas that require special attention, using their gentle and skillful gestures to help you release tension and achieve relaxation.
Invigorate Your Senses with Essential Oil-Infused Refreshing Towels
At Villa Firenze, we ensure you have a satisfactory and beneficial massage experience during your wellness vacation in Costa Rica, so we offer essential oil-infused refreshing towels to complement your massage session. Essential oils are used in a massage session to enhance the relaxation experience and help you cool down and invigorate your senses.
Our refreshing towels are prepared with natural ingredients such as mint, eucalyptus, or lavender, which have therapeutic properties that help to soothe sore muscles and calm the mind. These essential oils are carefully chosen to provide a refreshing and invigorating experience, leaving you feeling rejuvenated and refreshed after the massage session.
The essential oil-infused towels also help remove excess oil from your skin, leaving you feeling clean and refreshed. The natural fragrance of the oils helps to uplift your mood and promote a sense of well-being.
Post-Massage Treat – Detox Smoothie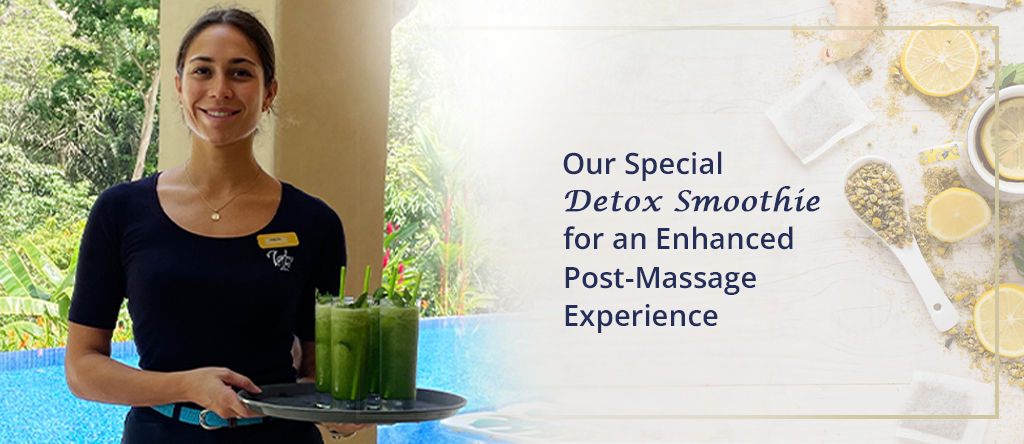 At Villa Firenze, we try to promote health and wellness through various aspects of our services, and drinking a detox smoothie after a massage session is just one of them. Our smoothies are specially crafted to enhance your relaxation experience and provide essential nutrients for your body. They are made with fresh fruits, vegetables, and other natural ingredients rich in vitamins, minerals, and antioxidants. These smoothies help to replenish the body, promote detoxification, and hydrate the body, making them the perfect addition to your wellness day at Villa Firenze.
We take every aspect of our guest's wellness seriously, including their dietary restrictions and meal plans. Our private chef is always available to cater to any specific needs, and we use locally-sourced ingredients to prepare every meal. This helps us to ensure our guests receive the freshest and healthiest meals possible, making their stay at Villa Firenze a truly rejuvenating experience.
Conclusion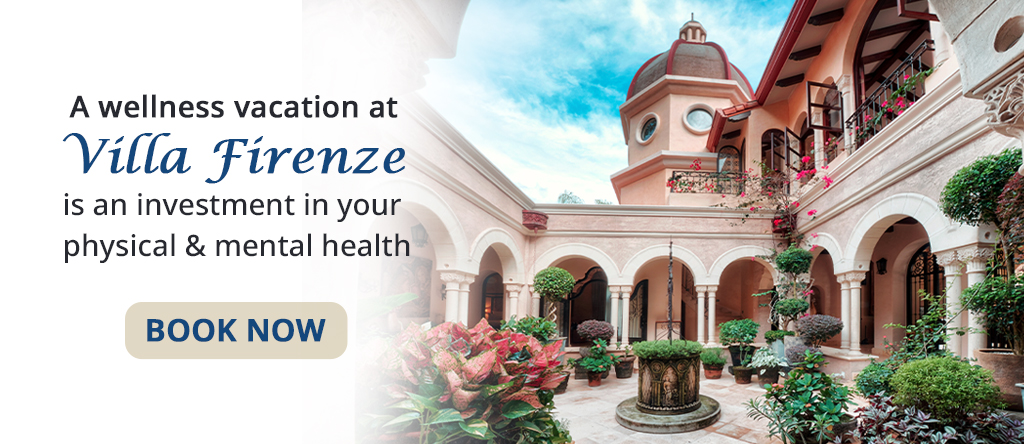 Apart from being a leading promoter of health and well-being, Costa Rica is also one of the most luxurious vacation destination in the world. With its focus on promoting overall well-being, Costa Rica is the perfect destination for anyone looking to recharge their batteries and return home feeling rejuvenated and refreshed. A wellness vacation in Costa Rica is an investment in your physical and mental health that will leave you feeling revitalized long after your stay.
So, during your next trip to Costa Rica, book Villa Firenze, where we are committed to providing our guests with a unique and rejuvenating wellness experience. Our massage sessions, detox smoothies, and freshly prepared meals are just a few ways we promote wellness.