The charm of Costa Rica is something unique. Nowadays, many couples are turning the tables on conventions and saying 'Yes!' to destination weddings – exchanging vows in picturesque destinations.
And Costa Rica is an excellent choice for destination weddings. It has beautiful beaches and pristine rainforests and makes for an unforgettable trip for you and your guests.
However, anyone who has planned a wedding in Costa Rica will tell you that it takes elaborate preparation. From the wedding officiant to the music, light, and sound, every detail of the event needs careful research and organization to ensure a successful event.
The venue, flowers, decorations, and menu all impact how the day unfolds. Even something as simple as deciding whether to keep things traditional or use some "Costa Rican flair" can make a huge difference.
So, planning a successful Costa Rican wedding takes determination and excellent collaboration between professionals.
Here are steps to follow for jumpstarting your Costa Rican destination wedding planning with Villa Firenze.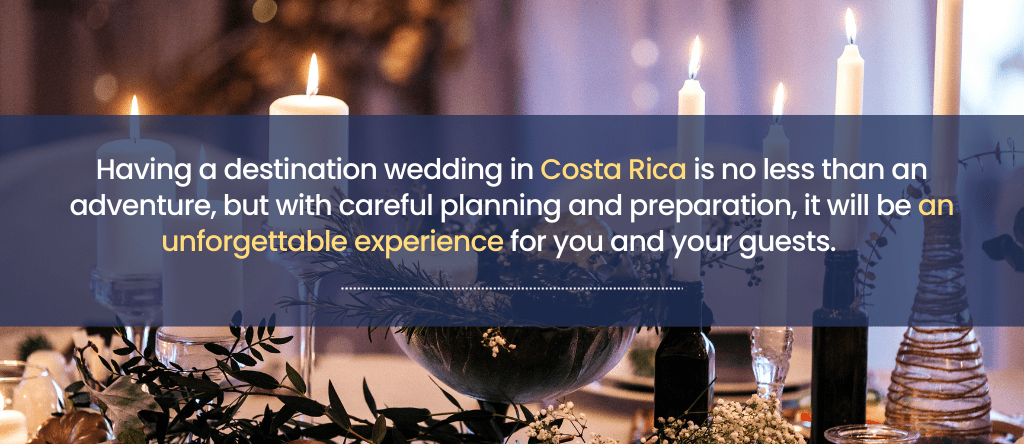 1. Welcoming Your Guests
How to transport your cherished guests to the wedding location is a concern for many couples. Only your family and friends should be on your guest list for an intimate destination wedding. Traveling to your wedding venue in Costa Rica will be easy and hassle-free with so many direct flights from the US and Canada.
Destination weddings give your guests a chance to spend time with you, vacation in a tropical paradise, and explore a stunning location they may have never visited. A hassle-free experience keeps their security, privacy, and lifestyle in mind. And Villa Firenze does just this.
Once you and your guests are at the location, luxurious amenities and our five-star services will undoubtedly make your day special. Our concierge will assist your guests with making travel and lodging arrangements and will be available to address their queries regarding their stay.
To make your cherished guests feel welcome and ensure their travel arrangements are taken care of, booking transport to the wedding location ahead of time is essential.
With direct flights to Costa Rica from all around, it's easier to plan a destination wedding with family and friends. This convenience is one of the best perks of a destination wedding in Costa Rica. Not only will everyone in attendance get to help you celebrate the big day, but they'll also get an unforgettable experience in paradise. From sightseeing and exploring new places together to simply making memories, your guests will leave your tropical wedding thankful for such a unique event.
2. A Private Villa as the Venue
Getting married at an all-inclusive wedding venue is expensive. Considering everything a wedding package deal includes, i.e., decorations, photoshoots, event management, and the ability to add on other wedding-related ceremonies and events like the engagement and honeymoon, you can expect a stress-free experience from venues.
With chandeliers, luxury linens, and rustic tropical decor, a wedding venue like Villa Firenze will let you organize any wedding you have ever imagined. Whether you want an extravagantly luxurious event or blend in with nature by choosing a tropical wedding theme that draws inspiration from the surrounding area, Villa Firenze lets you plan your wedding the way you want.
It's the perfect opportunity to host an unforgettable wedding experience. From extravagant settings and fluffy white linens to rustic décor that draws inspiration from the natural beauty of the surrounding area, you can select any theme you desire for your special occasion.
As for catering and drinks, they are all catered to with professionalism and class. In addition to weddings, an all-inclusive venue can provide excellent services for engagement ceremonies, honeymoons, and other wedding-related events. Choosing an all-inclusive venue will grant you a stress-free experience that will leave you with lasting memories you'll cherish forever.
3. The Photographers
With talented Costa Rican photographers specializing in wedding photography, your Costa Rica wedding celebration can have the custom look you always wanted to have. From the lively colors of San José to the lush greenery of Uvita and everywhere in between, our knowledgeable vendors know how to capture the true spirit and atmosphere of your destination celebration. They are masters at capturing every romantic moment with their unique style and alluring landscapes in the background.
By booking your preferred photographer well ahead of time, you will ensure that all these special moments will be kept for years to come, allowing you to embrace your happily ever after even more.
4. Inviting Guests
Planning a destination wedding takes careful and thoughtful preparation. One of the most important things to do is ensure your guests have plenty of time to make comfortable travel arrangements. Be sure to inform your guests what expenses they will need to handle, such as transportation to and from the airport, lodging, meals, tours or optional activities, trip insurance, etc.
Also, mention if there are any required documents that your guests might need, like a passport or visa. Knowing this information will help them prepare accordingly and deal with contingencies before their trip begins. As always, being clear about every detail beforehand ensures everyone has a smooth traveling experience ahead of the special day itself.
Wedding Cheat-sheet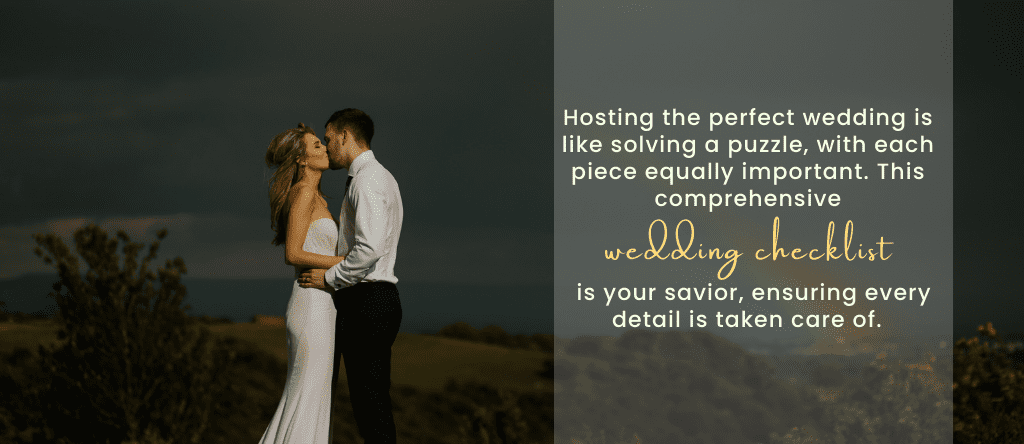 Planning the perfect wedding requires a significant amount of organization and preparation. Make a comprehensive wedding checklist to ensure you are on top of every detail. This checklist should include necessary tasks such as ordering flowers and sending out invitations and more subjective items like researching local bands, venues, and caterers. Having these items in an organized list with specific timelines for completion renders last-minute hiccups virtually impossible, ensuring you can relax and enjoy your big day stress-free. Here is a general checklist for you to follow before your wedding:
8 to 12 Months To Go
Announce your engagement.
Choose your wedding date
Establish a budget.
Choose a wedding destination.
Select your Maid of Honor, Bridesmaids, Best Man, and Groomsmen.
Research and hire a wedding planner.
Make a guest list
Select your wedding style and theme.
Get the ideal wedding dress and accessories.
3 to 8 Months To Go
Prepare wedding invitations.
Choose a wedding cake.
Plan your honeymoon and make bookings.
Choose and purchase wedding rings.
Choose and reserve the vendors – photographer, band or DJ, caterer, florist, and stylist.
1 Month To Go
Send wedding invitations.
Write your customized vows (if you want to).
Create your wedding day schedule.
1 Week To Go
Treat yourself to a therapeutic spa session.
Get comfortable in your footwear.
Get a pedicure and manicure.
Go for a rehearsal wedding dinner.
Pack for your honeymoon.
1 Day To Go
Get a good night's sleep and get ready for your big day.
Conclusion
To summarize, when it comes to a destination wedding, nothing quite beats having a stunning outdoor ceremony in a country like Costa Rica. An experienced team at an all-inclusive wedding venue like Villa Firenze can make planning your destination wedding a breeze and ensure that all the little details come together perfectly. All you need to do is relax and enjoy your big day while creating beautiful memories with those closest to you. Don't wait any longer – reserve your luxury wedding venue, Villa Firenze, today and make your idyllic dream wedding a reality in Costa Rica.